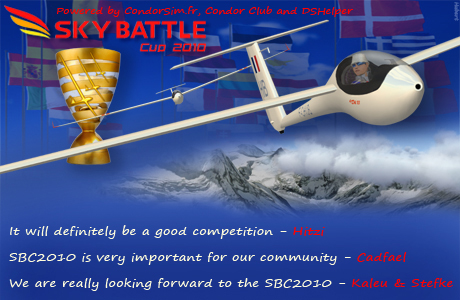 SBC2010 - Checklist
Dear SBC2010 competitor,
The 1st race is now very close. To fly safely SBC2010, please go carefully through this checklist:
1
- Complaints and requests by mp will be completely ignored. Any complaint or request has to be submitted on forums.
2
- Make sure your PC and Condor are working properly (no crash to desktop, blue screen, etc.)
3
- Registration on french forum
http://www.condorsim.fr/communaute/ucp. ... e=register
is strongly recommended. You get faster information and support in case of technical problem
4
- Unique time slot: servers are joinable between 19H30 UTC and 20H00 UTC
5
- Briefing will be available in a
a) simplified form on Condor Club and by Email at H-45min
b) comprehensive form on Condor Club at H-15min
6
- Fly with the Competition Number (CN) you registered on Condor Club otherwise you will not be scored.
7
- Whatever happens (task completed, crash, disconnection) DO NOT forget to upload your .ftr to Condor Club within the time limit after each race and (for more details, see the SBC2010 Rules). No exception for forgetting or mistaking files
8
- Check your credit of .ftr on Condor Club. If you are not a CondorClub premium member you can upload a maximum of 5 ftr / month
------------------------------------------
PS : please moderators, bear with us for multiple posts. It is only for visibility and clarity reasons to get SBC2010 pilots well prepared and informed. Uros is still sorting our forum rights for the SBC2010 forum http://forum.condorsoaring.com/viewforum.php?f=26