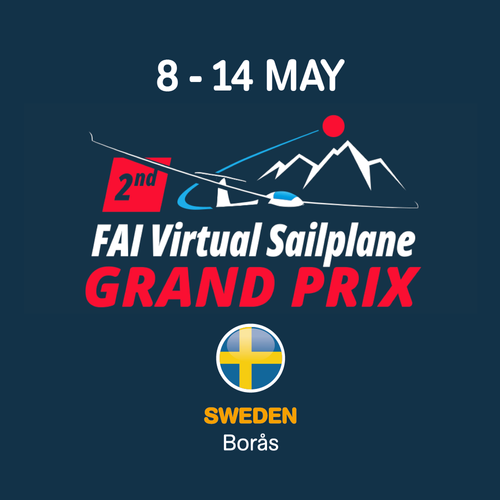 We are pleased to announce the first Qualifying event of the 2nd FAI Virtual Sailplane Grand Prix!
https://www.condor.club/comp/show/0/?id=687
The FAI Virtual Gliding team is in charge, on behalf of the FAI, IGC and Sailplane Grand Prix team to organize the event. Don't know what is Virtual SGP? Check this out:
https://www.virtualgliding.fai.org/virtual-sgp
This qualifying VSGP will take place from the 8th to the 15th of May 2021, at the same time as the Sailplane Grand Prix of Sweden in Boras.
You may find all the information you need on
https://www.virtualgliding.fai.org/sche ... eden-boras
Virtual SGP Rules and the local procedures are available on the same webpage.
Available slots:
- Europe & Africa: 6:30PM UTC
- South America & Eastern USA/Canada: 11:30PM UTC
- Western USA & Canada: 02:30AM UTC
- Asia/Oceania: 09:00AM UTC
Servers:
We will launch races with
maximum 40 pilots (instead of 20) per server
. There will be sufficient slots for everyone to join. Please do not forget to read the briefing sent by Condor.Club approximately 1 hour before each race. You MUST join the servers with the password given by Condor.Club (that is on your briefing sheet).
To participate, you must pay a sanction Fee of 3 EUR, unless you subscribed already to the 15EUR annual membership. More info available here:
https://www.virtualgliding.fai.org/register-now
Glider: 18m class only, with Max Wing Loading of 48kg/m²
Scoring :
you must deliver your FTR file to Condor.Club asap, after landing. If you quit the game to quickly, you can retrieve your last flight in Documents/Condor/FlightTrack --> LastTrack.ftr ! The races will be scored with a 1000pts baremic scale. You may find more info about the rules here:
https://www.virtualgliding.fai.org/news ... -published
Landscape & Condor
: Please use
Condor 2.1.7 & Boras V1.0
You are kindly invited to follow the news on
https://www.facebook.com/FAI.Virtual.Gliding
and on
https://www.facebook.com/faisgp
for the official SGP races/
Remember:
the task you will fly every evening, will be the task that the real pilots will fly in Boras! So if you follow the real event during the day, you will probably grab some tips to perform in the evening on Condor 2 !
Please share the contest in your clubs and to your friends, I hope that we will make a successful event together !
You can contact us for any question :
fai.virtual.gliding@gmail.com